Excellent Academics Tailored to Childrens' Needs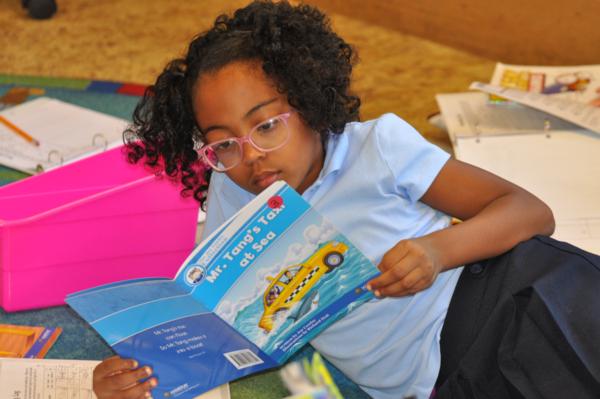 St. Elizabeth's is committed to rigorous academic development that allows students to grow intellectually at or above their chronological grade levels. As an independent school, St. Elizabeth's maintains high expectations while nurturing individual progress.
Language Arts
Reading
The reading program is based on using quality literature to teach the strategies of the major components of reading. These components include comprehension, accuracy (decoding and phonics), fluency, and expanding vocabulary. We use Café by Gail Boushey and Joan Moses, the research of Fountas & Pinnell , and Lucy Calkins Reader's Workshop guides as our framework.
All genres are read and studied. Students are instructed at their own individual reading level through individual, small group and whole group instruction.
Writing
Our writing program includes critical thinking, grammar, writing mechanics, and the writing process. Students' writing includes poetry, nonfiction, creative writing, reports, and research papers. We use the Writer's Workshop approach using The Six Traits of Writing and Lucy Calkins' Units of Study as our framework. K-3 also uses the Zaner–Bloser handwriting program.
Spelling
In grades 1, 2, and 3 we use Spelling By Patterns. The instruction has students analyze the patterns of spelling. The program uses words in context and focuses on root words and suffixes. In the intermediate grades we use Vocabulary Workshop where an emphasis is placed on higher-level vocabulary skills.
Social Studies
Social Studies is the integrated study of the social sciences including sociology, history, geography and political science. Areas of study include communities, maps, Colorado history, US history, and ancient civilizations.
Science
St. Elizabeth's School uses the FOSS (Full Option Science System) Program. FOSS Science is a hands-on inquiry-based K-8 program that was developed by the Lawrence Hall Of Science, University of California at Berkeley. It is organized in the developmental sequence of the scientific thinking process and includes life science, earth and space science, physical science, scientific reasoning and technology. In addition to the FOSS kits, teachers utilize addition curriculum based on the interests of the students and teacher. Classes enrich our science units using scientific process with a variety of field trips that correlate to what the students are studying.
The classes study the following units:
Kindergarten – Life Cycles; Dinosaurs; The Five Senses

First Grade – New Plants; Solids and Liquids

Second Grade – Pebbles, Sand, and Silt; Air and Weather

Third Grade – Adaption of Colorado Animals; Birds; Taking Care of our Earth

Fourth Grade – Water; The Human Body; The Sun and Moon

Fifth Grade – Models and Designs Environments
More About FOSS
Learn more about the FOSS Program at these pages:
Watch a video about the FOSS Program
Math
We use Math Expressions for our math curriculum. This new math program is one that is the most closely aligned with the new national math standards and common-core curriculum. The program encourages math-talk amongst students and solving problems in a variety of ways, using both traditional and nontraditional approaches. Students use math manipulatives and models to explore mathematical ideas, along with specific strategies and skills.