Student Ambassadors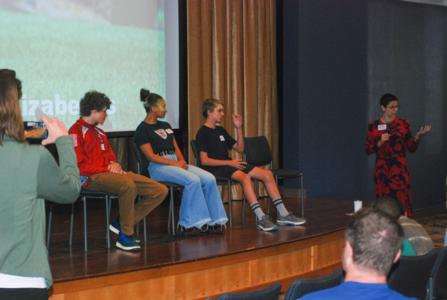 Students in Middle School have the opportunity to become student ambassadors and assist admissions with tours and education expos. Students earn their way into the program through an application process, and they must maintain their grades to continue in the program.
Character Awards
Monthly Character Awards
Character Awards are given to a student in each grade, K-5, at our monthly All-School Assembly. Students who best exemplify the character trait for that month are identified by their lead teacher.
Each year we chose 8 character traits that we value at St. Elizabeth's School Examples include: Patience, Justice-Seeker, Peace-Maker, Kindness, Courage, Generosity, Perseverance and Leadership.
The Real McCoy Award
The winner of the "Real McCoy" award goes to that eighth grader who exemplifies those qualities that served Mr. McCoy so well…integrity, compassion for others, a commitment to excellence, a willingness to improve one's surroundings, and the ability to add substantively to the life and purpose of our school community.
Mr. Walter McCoy arrived in Denver in July 2005 with the daunting task of starting a school from scratch. Developing a program that demands excellence, finding the facility, hiring teachers, raising money, convincing families to take a leap of faith and join us…these were all important and necessary tasks that had to be completed so that we could open our doors in August 2007. He accomplished all this, and he did it with great humor, integrity, compassion, a commitment to accessibility and social justice, and a core belief that one's work can really make a positive difference in the world. His work, in sum, created this amazing community.
Student Council
The SES middle school elects a Student Council every year that consists of an 8th grade President/Vice President pair, and one representative from each class (8th, 7th, and 6th). Together, this group of student leaders plans fundraisers and activities for the middle school including bake sales, hot chocolate sales and more to fund community service give-back programs as well as fun activities such as middle school dances!