Adriana Murphy
Welcome from the Head of School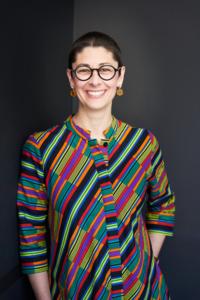 Hello! Hola! I'm Adriana Murphy, Head of School at St. Elizabeth's.
I am so glad you're here, whether you're already a St. E's family checking in to see what's new or a prospective one looking to learn all about what it is we do here. The short answer is that we do a lot of incredible things to make our school one of the most dynamic and enriching learning experiences students can have. But I'm a fan of the details and I think you will be, too; I'd love to tell you all about who we are and what we bring to the table.
St. Elizabeth's is an inclusive, K-8 Episcopalian school that functions on a "modern classroom" model, meaning we intentionally create a diverse school setting that offers students the opportunity to practice collaboration, resiliency, and creative problem-solving. I like to say that we see with our hearts at St. E's, not just with our eyes, and that stands true for everything from our admissions process to our curriculum and instruction. Our students get to explore infinitely in areas outside of conventional subjects, whether that's practicing visual arts, participating in overnight outdoor trips, or leading their conferences, and we offer endless opportunities for them to advocate for themselves.
Our approach to teaching is grounded in the research of Mind Brain Education (MBE), or The Science of Learning—how neuroscience, psychology, and education best practices intersect to create the optimal learning experience for each child. Through our partnership with the Center for Transformative Teaching and Learning, we are taking what we have always known about students— that they are constantly iterating, relationship-driven, and curious about the world—and combining this knowledge with the latest research about how to make learning active, meaningful, and rigorous.
Our small class sizes (8:1 in the Lower School and 15:1 in the Middle School) ensure our students get the most out of the learning process. It's difficult for anyone to go unnoticed at our school and this encourages a deep sense of belonging. We believe most in where St. E's kids are headed, not where they're coming from, so we accept students of all backgrounds and needs on our unique sliding tuition scale because everyone should have the chance at a bright future.
We're extremely excited to call The Mosaic Community Campus our new home, which not only provides St. E's with a state-of-the-art learning facility but also a diverse community of people, groups, and organizations that create a hub for quality education, affordable housing, economic development, the arts, and social gathering. We're thrilled at the growth potential this offers our students, from being a safe and welcoming event space or simply a wealth of resources as they develop.
There is, of course, so much more happening at St. Elizabeth's that every day is an adventure and an opportunity to learn, do, or be something amazing. This is the place where you can be you, fully, and find that true sense of belonging. Please reach out if you have any questions, or just click around and see for yourself what a thriving, committed, and intentionally inclusive Episcopal school looks like. We can't wait to meet you!
Best Foot Forward,
Adriana Murphy
Head of School