St. Elizabeth's School Library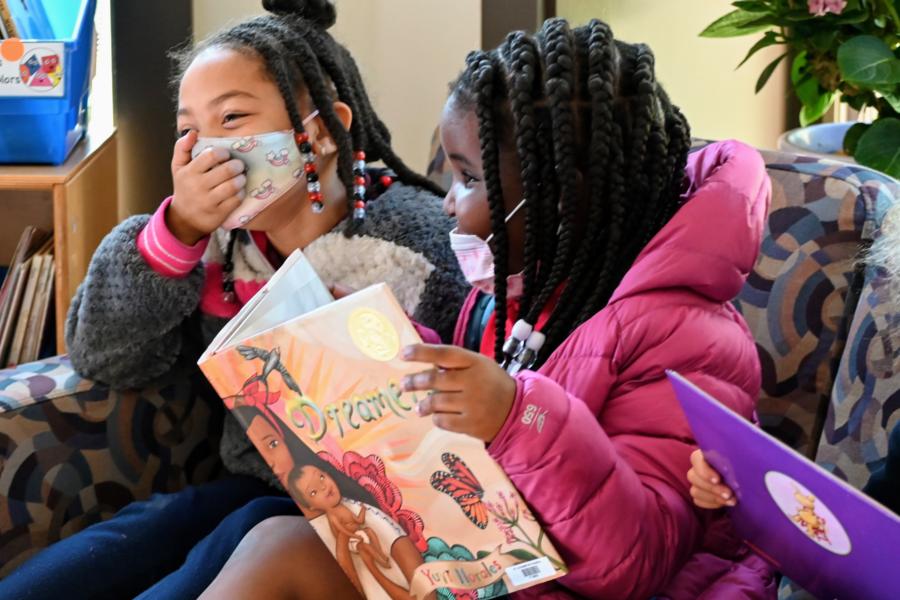 The St. Elizabeth's School Library is an ever-evolving collection of more than 10,000 titles for children in Kindergarten
through 8th grade of all genres, fiction and nonfiction, curated with an emphasis on diversity and relevance to our students.
To browse our collection digitally, please visit:
Suggested Reading List for K-8th Grades
Colorado Children's Book Award Nominees: Junior Book Titles

To vote for one of these junior book titles in November, you must read - or listen to - at least three of them!
Blended by Sharon Draper
Piano-prodigy Isabella, eleven, whose black father and white mother struggle to share custody, never feels whole, especially as racial tensions affect her school, her parents both become engaged, and she and her stepbrother are stopped by police.
Bob by Wendy Mass & Rebecca Stead *The 3rd grade will read this in class.
Visiting her grandmother in Australia, Livy, ten, is reminded of the promise she made five years before to Bob, a strange, green creature who cannot recall who or what he is.
Ground Zero by Alan Gratz
Brandon is visiting his dad on the 107th floor of the World Trade Center on September 11, 2001 when the attack comes; Reshmina is a girl in Afghanistan who has grown up in the aftermath of that attack but dreams of peace, becoming a teacher and escaping her village and the narrow role that the Taliban believes is appropriate for women--both are struggling to survive, both changed forever by the events of 9/11.
Song for a Whale by Lynne Kelly *The 3rd grade will read this in class.
Twelve-year-old Iris and her grandmother, both deaf, drive from Texas to Alaska armed with Iris's plan to help Blue-55, a whale unable to communicate with other whales.
The One and Only Bob by Katherine Applegate
A scrappy dog named Bob and his best friends, Ivan the gorilla and Ruby the elephant, undertake a dangerous journey to seek Bob's long-lost sister, but a storm is approaching and time is running out.
Greystone Secrets #1: The Strangers by Margaret Peterson Haddix
Told from separate viewpoints, Chess, Emma, and Finn Greystone, ages twelve, ten, and eight, investigate why their mother went missing and uncover their ties to an alternate world.
The Very, Very Far North by Dan Bar-el
As Duane, a polar bear, explores his new home he makes friends with the wide variety of creatures he encounters, despite their varied personalities.
Three Keys: A Front Desk Novel by Kelly Yang
Mia Tang thinks she's going to have the best year ever. She and her parents are the proud owners of the Calivista Motel, Mia gets to run the front desk with her best friend, Lupe, and she's finally getting somewhere with her writing! But as it turns out, sixth grade is no picnic.
War Stories by Gordon Korman
Twelve-year-old Trevor Firestone loves playing war-based video games and he idolizes his great-grandfather Jacob who came home from World War II a celebrated hero; now ninety-three Jacob wants to retrace his journey in memory and reality and return to the small French village that his unit liberated, and Trevor is going with him--but not everyone in the town wants Jacob to come, and Trevor is going to learn an important lesson: real war is not a video game, and valor and heroism can be very murky concepts.
We Dream of Space by Erin Entrada Kelly
In 1986, as the country waits expectantly for the launch of the Space Shuttle Challenger, three siblings each exist in their own orbits, circling a tense and unpredictable household, with little in common except an enthusiastic science teacher. When the fated day finally arrives, it changes all of their lives and brings them together in unexpected ways.
More great books to enjoy…
Everything Sad Is Untrue: A True Story by Daniel Nayeri (grades 6-8)
A patchwork story is the shame of the refugee," Nayeri writes early in the novel. In an Oklahoman middle school, Khosrou (whom everyone calls Daniel) stands in front of a skeptical audience of classmates, telling the tales of his family's history, stretching back years, decades, and centuries. At the core is Daniel's story of how they became refugees—starting with his mother's vocal embrace of Christianity in a country that made such a thing a capital offense, and continuing through their midnight flight from the secret police, bribing their way onto a plane-to-anywhere. Anywhere becomes the sad, cement refugee camps of Italy, and then finally asylum in the U.S.
Nayeri deftly weaves through stories of the long and beautiful history of his family in Iran, adding a richness of ancient tales and Persian folklore.
Stepsister by Jennifer Donnelly (grades 6-8)
Isabelle should be blissfully happy-she's about to win the handsome prince. Except Isabelle isn't the beautiful girl who lost the glass slipper and captured the prince's heart. She's the ugly stepsister who cut off her toes to fit into Cinderella's shoe . . . which is now filling with blood. Isabelle tried to fit in. She cut away pieces of herself in order to become pretty. Sweet. More like Cinderella. But that only made her mean, jealous, and hollow. Now she has a chance to alter her destiny and prove what ugly stepsisters have always known: it takes more than heartache to break a girl. Evoking the darker, original version of the Cinderella story, Stepsister shows us that ugly is in the eye of the beholder, and uses Jennifer Donnelly's trademark wit and wisdom to send an overlooked character on a journey toward empowerment, redemption . . . and a new definition of beauty.
Just Like That by Gary D. Schmidt (grades 5-8)
In this poignant, perceptive, witty novel, Gary D. Schmidt brings authenticity and emotion to multiple plot strands, weaving in themes of grief, loss, redemption, achievement, and love. Following the death of her closest friend in summer 1968, Meryl Lee Kowalski goes off to St. Elene's Preparatory Academy for Girls, where she struggles to navigate the venerable boarding school's traditions and a social structure heavily weighted toward students from wealthy backgrounds. In a parallel story, Matt Coffin has wound up on the Maine coast near St. Elene's with a pillowcase full of money lifted from the leader of a criminal gang, fearing the gang's relentless, destructive pursuit. Both young people gradually dispel their loneliness, finding a way to be hopeful and also finding each other.
Starfish by Lisa Flips (grades 5-8)
Ever since Ellie wore a whale swimsuit and made a big splash at her fifth birthday party, she's been bullied about her weight. To cope, she tries to live by the Fat Girl Rules--like "no making waves," "avoid eating in public," and "don't move so fast that your body jiggles." And she's found her safe space--her swimming pool-- where she feels weightless in a fat-obsessed world. In the water, she can stretch herself out like a starfish and take up all the room she wants. It's also where she can get away from her pushy mom, who thinks criticizing Ellie's weight will motivate her to diet. Fortunately, Ellie has allies in her dad, her therapist, and her new neighbor, Catalina, who loves Ellie for who she is. With this support buoying her, Ellie might finally be able to cast aside the Fat Girl Rules and starfish in real life--by unapologetically being her own fabulous self.
Black Brother, Black Brother by Jewell Parker Rhodes (grades 4-8)
Sometimes, 12-year-old Donte wishes he were invisible. As one of the few black boys at Middlefield Prep, most of the students don't look like him. They don't like him either. Dubbing him "Black Brother," Donte's teachers and classmates make it clear they wish he were more like his lighter-skinned brother, Trey. When he's bullied and framed by the captain of the fencing team, "King" Alan, he's suspended from school and arrested for something he didn't do. Terrified, searching for a place where he belongs, Donte joins a local youth center and meets former Olympic fencer Arden Jones. With Arden's help, he begins training as a competitive fencer, setting his sights on taking down the fencing team captain, no matter what. As Donte hones his fencing skills and grows closer to achieving his goal, he learns the fight for justice is far from over. Now Donte must confront his bullies, racism, and the corrupt systems of power that led to his arrest.
Tracking Pythons: The Quest to Catch an Invasive Predator and Save an Ecosystem by Kate Messner (grades 4-8)
Burmese pythons are invading Florida. These enormous snakes are native to Southeast Asia, so when one showed up dead along the side of a Florida highway in 1979, scientists wondered where it came from. No one knew the snakes had launched a full-scale invasion. Pet pythons that escaped or were released by their owners started breeding in the wild, and these enormous predators began eating every animal in their path. Today a group of scientists at the Conservancy of Southwest Florida is tracking Burmese pythons to find ways to stop their spread.
Chirp by Kate Messner (grades 4-7)
When Mia moves to Vermont the summer after seventh grade, she's recovering from the broken arm she got falling off a balance beam. And packed away in the moving boxes under her clothes and gymnastics trophies is a secret she'd rather forget. Mia's change in scenery brings day camp, new friends, and time with her beloved grandmother. But Gram is convinced someone is trying to destroy her cricket farm. Is it sabotage or is Gram's thinking impaired from the stroke she suffered months ago? Mia and her friends set out to investigate, but can they uncover the truth in time to save Gram's farm? And will that discovery empower Mia to confront the secret she's been hiding--and find the courage she never knew she had? In a compelling story rich with friendship, science, and summer fun, a girl finds her voice while navigating the joys and challenges of growing up.
The Total Eclipse of Nestor Lopez by Adrianna Cuevas (grades 3-7)
All Nestor Lopez wants is to live in one place for more than a few months and have dinner with his dad. When he and his mother move to a new town to live with his grandmother after his dad's latest deployment, Nestor plans to lay low. He definitely doesn't want to anyone find out his deepest secret: that he can talk to animals. But when the animals in his new town start disappearing, Nestor's grandmother becomes the prime suspect after she is spotted in the woods where they were last seen. As Nestor investigates the source of the disappearances, he learns that they are being seized by a tule vieja?a witch who can absorb an animal's powers by biting it during a solar eclipse. And the next eclipse is just around the corner… Now it's up to Nestor's extraordinary ability and his new friends to catch the tule vieja?and save a place he might just call home.
Root Magic by Eden Royce (grades 3-7)
It's 1963, and things are changing for Jezebel Turner. Her beloved grandmother has just passed away. The local police deputy won't stop harassing her family. With school integration arriving in South Carolina, Jez and her twin brother, Jay, are about to begin the school year with a bunch of new kids. But the biggest change comes when Jez and Jay turn eleven— and their uncle, Doc, tells them he's going to train them in rootwork. Jez and Jay have always been fascinated by the African American folk magic that has been the legacy of their family for generations—especially the curious potions and powders Doc and Gran would make for the people on their island. But Jez soon finds out that her family's true power goes far beyond small charms and elixirs… and not a moment too soon. Because when evil both natural and supernatural comes to show itself in town, it's going to take every bit of the magic she has inside her to see her through.
Efrén Divided by Ernesto Cisneros (grades 3-7) *Winner of the 2021 Pura Belpré Award*
Efrén Nava's Amá is his Superwoman—or Soperwoman, named after the delicious Mexican sopes his mother often prepares. Both Amá and Apá work hard all day to provide for the family, making sure Efrén and his younger siblings Max and Mía feel safe and loved. But Efrén worries about his parents; although he's American-born, his parents are undocumented. His worst nightmare comes true one day when Amá doesn't return from work and is deported across the border to Tijuana, México. Now more than ever, Efrén must channel his inner Soperboy to help take care of and try to reunite his family.
Maybe Maybe Marisol Rainey by Erin Entrada Kelly (grades 3-7)
Marisol Rainey's mother was born in the Philippines. Marisol's father works and lives part-time on an oil rig in the Gulf of Mexico. And Marisol, who has a big imagination and likes to name inanimate objects, has a tree in her backyard she calls Peppina . . . but she's way too scared to climb it. This all makes Marisol the only girl in her small Louisiana town with a mother who was born elsewhere and a father who lives elsewhere (most of the time)—the only girl who's fearful of adventure and fun. Will Marisol be able to salvage her summer and have fun with Jada, her best friend? Maybe. Will Marisol figure out how to get annoying Evie Smythe to leave her alone? Maybe. Will Marisol ever get to spend enough real time with her father? Maybe. Will Marisol find the courage to climb Peppina? Maybe.
Skunk and Badger by Amy Timberlake and Jon Klassen (grades 3-7)
No one wants a skunk. They are unwelcome on front stoops. They should not linger in Important Rock Rooms. Skunks should never, ever be allowed to move in. But Skunk is Badger's new roommate, and there is nothing Badger can do about it. When Skunk plows into Badger's life, everything Badger knows is upended. Tails are flipped. The wrong animal is sprayed. And why-oh-why are there so many chickens? Newbery Honor author Amy Timberlake spins the first tale in a series about two opposites who need to be friends.
Jo Jo Makoons: The Used-to-Be Best Friend by Dawn Quigley and Tara Audibert (grades 1-5)
Jo Jo Makoons Azure is a spirited seven-year-old who moves through the world a little differently than anyone else on her Ojibwe reservation. It always seems like her mom, her kokum (grandma), and her teacher have a lot to learn—about how good Jo Jo is at cleaning up, what makes a good rhyme, and what it means to be friendly. Even though Jo Jo loves her #1 best friend Mimi (who is a cat), she's worried that she needs to figure out how to make more friends. Because Fern, her best friend at school, may not want to be friends anymore…
Milo Imagines the World by Matt de la Peña and Christian Robinson (grades K-3)
Milo is on a long subway ride with his older sister. To pass the time, he studies the faces around him and makes pictures of their lives. There's the whiskered man with the crossword puzzle; Milo imagines him playing solitaire in a cluttered apartment full of pets. There's the wedding-dressed woman with a little dog peeking out of her handbag; Milo imagines her in a grand cathedral ceremony. And then there's the boy in the suit with the bright white sneakers; Milo imagines him arriving home to a castle with a drawbridge and a butler. But when the boy in the suit gets off on the same stop as Milo--walking the same path, going to the exact same place--Milo realizes that you can't really know anyone just by looking at them.
Try it!: How Frieda Caplan Changed the Way We Eat by Mara Rockliff (grades K-3)
In 1956, Frieda Caplan started working at the Seventh Street Produce Market in Los Angeles. Instead of competing with the men in the business with their apples, potatoes, and tomatoes, Frieda thought, why not try something new? Starting with mushrooms, Frieda began introducing fresh and unusual foods to her customers—snap peas, seedless watermelon, mangos, and more! This groundbreaking woman brought a whole world of delicious foods to the United States, forever changing the way we eat. Frieda Caplan was always willing to try something new—are you?
Your Place in the Universe by Jason Chin (grades K-3)
Most eight-year-olds are about five times as tall as this book . . . but only half as tall as an ostrich, which is half as tall as a giraffe . . . twenty times smaller than a California Redwood! How do they compare to the tallest buildings? To Mt. Everest? To stars, galaxy clusters, and . . . the universe? Jason Chin, the awardwinning author and illustrator of Grand Canyon has once again found a way to make a complex subject--size, scale and almost unimaginable distance--accessible and understandable to readers of all ages. Meticulously researched and featuring the highly detailed artwork for which he is renowned, this is How Much is a Million for the new millenium, sure to be an immediate hit with kids looking for an engaging way to delve into perspective, astronomy, and astrophysics.