Adriana Murphy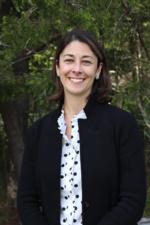 July 2020
The SES Board of Directors are enormously pleased to announce the arrival of Adriana Murphy, our new Head of School. Adriana's most recent work was as the head of middle school at Friends Community School in College Park Maryland, a Quaker K-8 independent school, a role she excelled in for eight years. Under her leadership the middle school has increased by 50%. She was also a major part of the high school placement process there, as well as teaching 8th grade seminars and overseeing faculty training, developing advisory, and orientation programs, and block schedule. She has previously taught both middle and lower school children during her career of 17 years in independent schools.
Adriana has Master's degrees from the Kingenstein Center for Private School Leadership at Columbia University in New York City, and Peace and Development Studies from Universitat Jaume I, Castellon, Spain and a BA from Bishop's University, Pr. of Quebec, Canada. She is a native Spanish speaker, whose mother had to flee Nicaragua. She was raised a Catholic, went to an Anglican college and teaches at a Quaker school and embraces the importance of spiritual training for students. Previously she served in Americorps as a wildlands firefighter.
She shares with us the strong commitment to equity, diversity, integrity and inclusion. She has a great sense of humor and the deep experience we were hoping to find to lead our school.
From Adriana Murphy
It is an honor to be appointed the next Head of St. Elizabeth's School, and I am thrilled to join the community. St. Elizabeth's combination of Episcopal values—love, diversity, equality, equity, faith, and inclusion—and robust teaching and learning are inspiring. I look forward to working with all members of the St. Elizabeth's community as we continue to serve as a model of inclusivity and excellence.
I would like to thank the St. Elizabeth's Board of Trustees, the Search Committee, all the parents, faculty, staff, and students who took the time to meet with me during my visit. I thoroughly enjoyed speaking with each and every one of you and look forward to getting to know every member of St. Elizabeth's. I would also like to thank Ramsay Stabler for his work and dedication to St. Elizabeth's. Ramsay and I will be in communication before my official start date on July 1; I am grateful for his leadership in developing St. Elizabeth's into the school it is today.
Best foot forward,
Adriana Muprhy